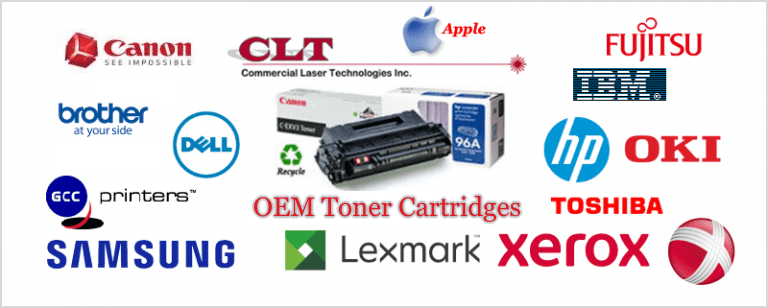 OEM Toner Cartridges:
CLT is one of the last manufacturers of compatible toner cartridges in the GTA area because most of the local providers are buying offshore taking money and jobs out of the local economy. Beyond the economic impact is the atrocious reputations of the manufacturers they purchase from! Below you'll find a list of reasons why your next toner cartridge purchase should be from CLT!
We sell both OEM & CLT Inc.'s brand of Toner Cartridges.
Our CLT brand of cartridges are remanufactured in Toronto strictly adhering to industry standards supporting the local economy.
We only use quality replacement parts for our toners subject to strict quality control

Free pick-up of empties and free delivery of Toners within the GTA on orders of two or more cartridges

Fast delivery and shipping on stock items
Worry-free warranty exchange policy.
OEM Toner Cartridges by Manufacturer
Search our online database of compatible toner cartridges if you don't find what you need online feel free to call us in the GTA at (416) 789-9337 or toll free at 1-800-258-2188 for availability and price.