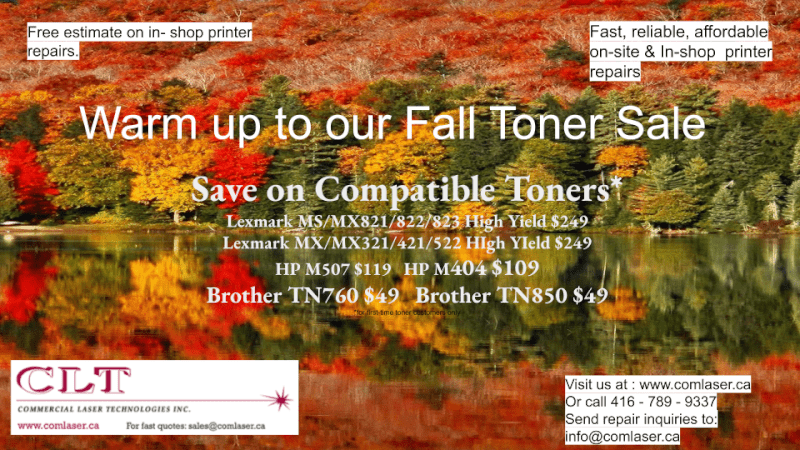 Compatible Toners
It's a no-brainer, really. Think SAVINGS while helping SAVE the environment. That's all you need to know. Commercial Laser Technologies Inc. has always believed in keeping our environment healthy. Every little bit helps. So, we have taken the next step in our fuser re-manufacturing project to add re-manufactured toner cartridges.
CLT Inc. encourages our customers to recycle their toner cartridges to reduce the possibility of the empty cartridges ending up in landfills and contributing to the deterioration of our environment. Call for free pickup of your empty cartridges. Credits will be issued to your account for every cartridge that can be reused and recycled. This applies to both OEM and Compatible Toner Cartridges. Please take the time to consider this environmentally friendly alternative. The toner cartridges will be re-manufactured – avoiding the tons of waste generated every year
We have painstakingly taken the time to research and develop safe superior quality re-manufactured toner cartridges! Our research and development was fueled by our dedication to providing our customers quality OEM compatible products at a fraction of the cost. This assures our customers that higher standards are adhered to, thus, you can be sure that the re-manufactured cartridges that you buy from us are as good as new, maybe even better. Plus, you know you are doing your part in reducing the amount of waste generated by discarded toner cartridges.
Next time you need toner products, think superior quality, think SAVINGS, think CLT!
CLT Remanufactured Refills & Compatible Toners
Search our online database of compatible toner cartridges if you don't find what you need online feel free to call us in the GTA at (416) 789-9337 or toll free at 1-800-258-2188 for availability and price.